An Entrepreneurial Journey - 6 Business Tips to Achieve Success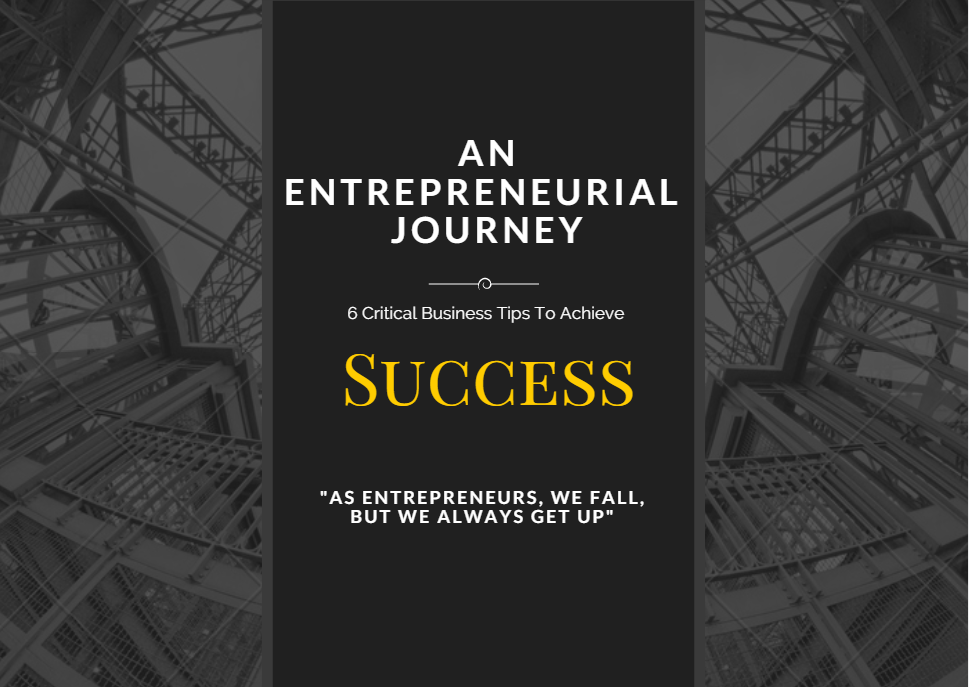 Coming from a high-level position in a large corporate environment like Morgan Stanley and then switching gears and going the entrepreneurial route, I've definitely learned a thing or two along the way. I have learned to surround myself with people from all walks of life and business, from all corners of the world; those who are blatantly forthright; business types that are forward-thinking, with a motivating, industrial spirit. Those who have been through the process of seeking and landing investors, who have fumbled and recovered, and will continue to stumble, fall and pick themselves up again and again in order to persevere to the ultimate goal of building a successful business. The best advice you will ever get is from entrepreneurial trailblazers.
As an entrepreneur you are continually learning. Mistakes are part of the process, and they teach us our greatest lessons. Today, when I meet with new entrepreneurs I try to guide them so they avoid the pitfalls that I've experienced.
Over the years I have seen a frequent pattern of mistakes that continually surface with my clients. The reason is usually budget, time and manpower. In the end, avoiding these key tips when starting a business can lead to costly missteps that will require all of these resources and then some, tenfold. Here are a few tips to get you on the road to success.
Due Diligence is King. Do Your Research!
Whether it's naming your business, branding, product development, a company you are thinking of hiring to do your PR, development of your new website, etc., understanding your business, the product, your target audience, competition and market placement are key. You may think the widget you built is unique and the only one on the planet, but if you dig into the enormous Googlesphere you may discover similar products on the market. Do your research, otherwise you will spend all of your budget on fixing costly mistakes.
I can't even begin to tell you how many businesses come to Techwuli to bail them out of bad technology situations. At Techwuli we don't just look at "the project", we look at the business as a whole. Our success is based on our clients' success. We have so many clients that come to us to improve or rebuild their website thinking it's the magic wand to the success of their business. A shiny website does not guarantee success. We are honest with our clients. We discuss the business plan and look at the existing environment as a whole, and then we make recommendations based on research.
Educate, Educate, Educate!
Here's a perfect example…. The SEO magic wand! This is one of the top mistakes I see clients making quite frequently. Everyone wants to get to the top of the Google food chain the minute they launch their business online. SEO is the ubiquitous mystery; a major blur for many businesses. It goes like this "I hired an SEO firm to implement all of the proper requirements on my website to get me ranked #1 on Google, but I have no idea what they are doing or if it's working."
So in typical Techwuli business form, we do a Google search and then we go behind the scenes to investigate what has been done, and surprise, surprise, nine times out of ten, nothing or little has been implemented. And then we watch the panic set in as the trough of disillusionment overcomes our client's face. I always stress education to my clients. Even if you are not the one implementing these practices, you should educate yourself so you know how what to look for and to hold people accountable.

Be Inquisitive, Network, Socialize, Find a Mentor, a Guru
Join a MeetUp Group, Consult with Non-Profit Small Business Advisory Services like SCORE, Join Peer Advisory Groups, Mastermind Groups, Watch Shark Tank, the Profit… Google EVERYTHING!
When you start building your business networking is key. Enlist the proper resources and surround yourself with a well-rounded group of business professionals; these are the most valuable tools you will have in your arsenal. We learn so much from one another; our experiences, mistakes, successes, the ins & outs, the journey, etc.
I am obsessed with Shark Tank! If you want to gain insight into the core competencies that are required to build a successful business, add this show to your list. Can you successfully answer all of their questions? Do you have the confidence and presentation skills to garner success? Do you have what it takes to get in front of the Sharks?

Go Team!
This is one of the most valuable lessons I've learned. Look at the principal players of any business. They are there for a reason and they all play a very fundamental role in the success of a business. When we start out in a new venture, we try to accomplish everything ourselves because we don't have the budget to bring in a team of people, right? Well, this is another costly blunder. This goes back to why networking groups are so vital at this stage of the game.
You can develop the most mind-blowing, earth shattering widget, but if you don't have the right people in place who know how to protect, market & sell your product; it's essentially dead in the water. A big mistake is expecting a marketing person to sell, or a sales person to market. These entities are unique and separate. Again, go back to the core hierarchy of any corporation; these are the areas of expertise that need to be in place in your own company.
Picking the right team goes beyond the glossy resume. People will always convey the rosiest picture of themselves on paper, but picking the right team goes way beyond parchment. Expertise is essential, but there's also chemistry involved. We're all human with innate personalities and sometimes the chemistry just doesn't gel. A candidate that has the most amazing credentials and education, but lacks appeal, is a red flag. If this person can't share, negotiate, compromise or get along with others, it can be costly for your business from many perspectives; moral, project stall, etc.

Jack Be Nimble, Jack be Quick… or Someone Else Will Steal Your Shtick
When a project stalls, it costs your business time, money & resources, and it gives time for potential new competition to enter the playing field.
Once you get a project going, keep it going. Don't start and stop because a team member is creating friction or a roadblock. When a lapse of time is initiated on a project you've already expended a considerable amount of time and money on it. It is redundant and costly to now have your team go back, refresh and retrace all of the previous milestones to get going again. Now you're paying out, once again, for the time previously spent on the project.
Design & Development A Website That Captivates & Generates
When you hire a company to create your website, be sure there is both a design team and a development team on staff. These two entities speak different languages, so it is critical to efficiently and effectively translate your vision. Your website should be captivating and nimble. It should be inviting, aesthetically pleasing, user-friendly and engaging. Before you start constructing your website here are Techwuli's Six Tips to Designing + Developing a Successful Website.
Let Techwuli Get You On the Path to Entrepreneurial Success, Right from the Start!
---